50 Essential SEO Glossary of Terms & Explanation- in 2021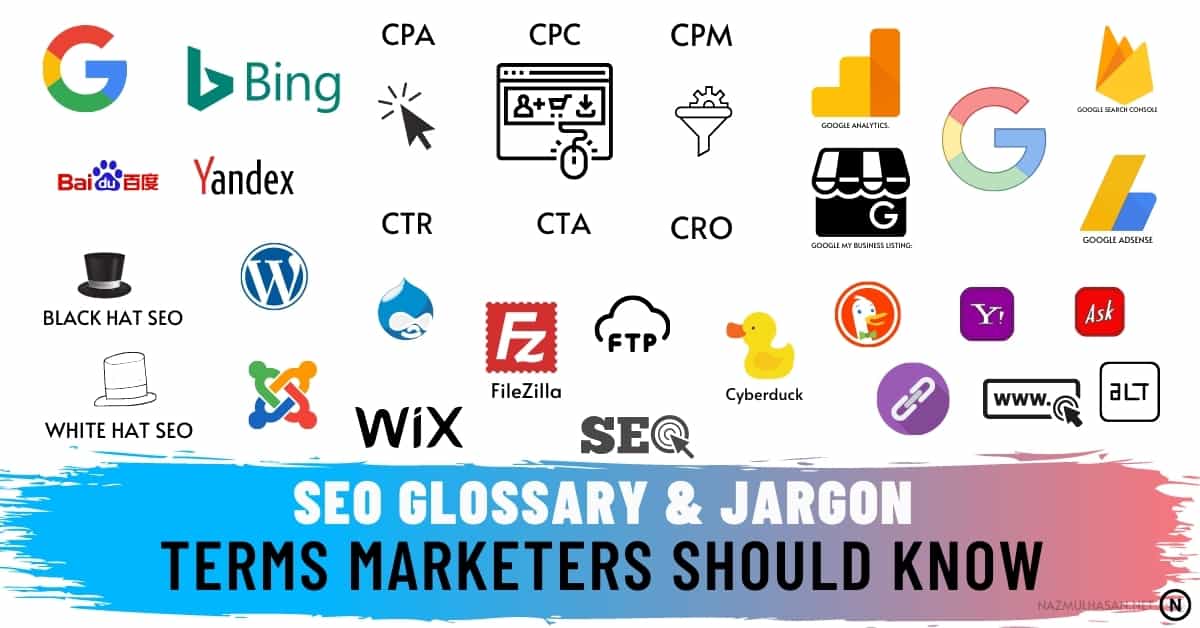 SEO terms often used in training videos or posts. For new marketers these terms should be familiar. I try to compile all important terms and describe briefly. So that for any level of marketer easily understand the trams.
Why Should You Read This Post ?
Because
You will learn top SEO Glossary of Terms & Explanation easily.
Every topic is explained with very easy examples.
Every topic contains images so it is easy to understand.
Topics are in groups not alphabetical order so you can easily navigate.
---
SEO: Search Engine Optimization
Search Engine— Searches Tools or Website.
Tools or website that helps to show search results with relevant keywords or quarry. For example: Google, Bing, Yahoo, DuckDuckGo, Baidu, Yandex and more.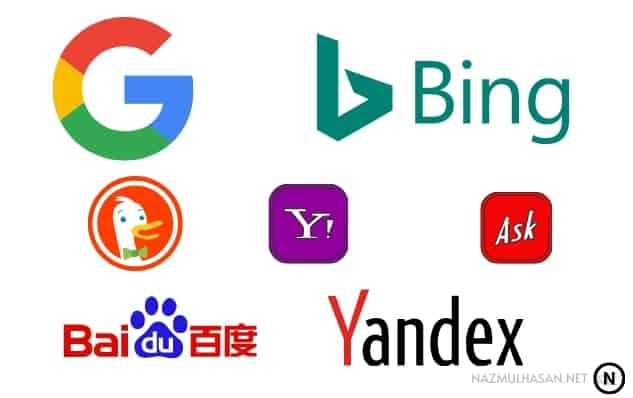 SEO—Search Engine Optimization
Search Engine is nothing but a website, For example Google, yahoo, Bing etc.By improving SEO we can rank websites/web pages in search engines. So why do we need SEO ?
SEO is the process of getting organic or unpaid traffic
If our site is ranked on the first page off google or Bing we will get more traffic.
More Traffic help to get more engagements
Finally More Engagements help to get potential customers!
As it is a very broad topic we will discuss in future posts.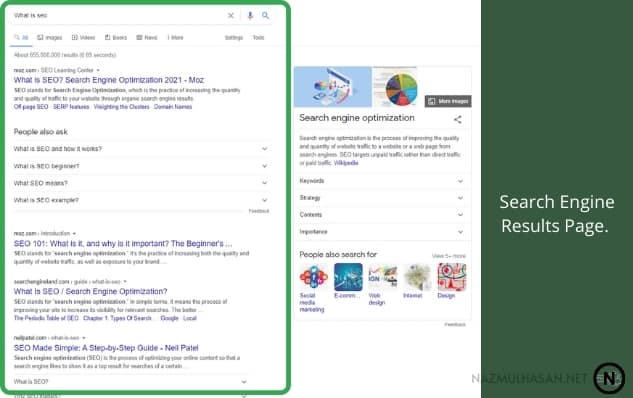 SERP—Search Engine Results Page.
When we search a query in google or any other engine, it will show some results. Normally every page shows 10 results (you can customize it in your browser). The result contained in every page is called SERP or Search Engine Results Page. Marketers always try to get their websites on top SERP (top 10 results).
Algorithm Update— Search Engine has their algorithm Update.
Every search engine has their algorithm in order to make search more accurate and appropriate for the user. For example google continuously updates their algorithm and names it based on its characteristics.
Some Algorithms update are
Panda: February 24, 2011, — Quality score for website by removing Duplicate or spam content.
Penguin April 24, 2012, — Optimized Naturally by removing Spammy or irrelevant links
Hummingbird: August 22, 2013 — Better Search Result for users by removing Keyword stuffing; low-quality content.
Keep in mind that this is not a task for google to remove the links or content, if your website has spammy content or irrelevant links then google simply removes your site from the search engine.
SEM—Search Engine Marketing
Advertising through search engines. For keywords, you need to bid an amount, based on the bid your website or web page links show on search engines. As SEO is a long process, businesses often advertise their product or service through search engines.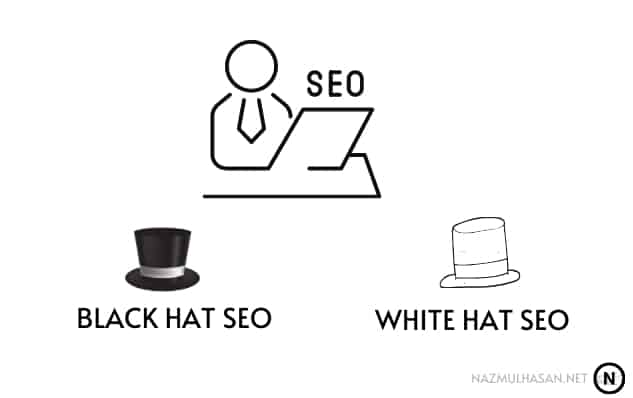 Black hat SEO—Breaking the rules of SEO and use black hat tactics
For Example Using PBN ( private blog network) is also one kind of black SEO, google or other search engine did not allow this kind of practice.
White hat SEO— Follow the rules of search engines.
Follow the rules' means, follow normal SEO methods. For example: Provide quality content, use properly optimized images.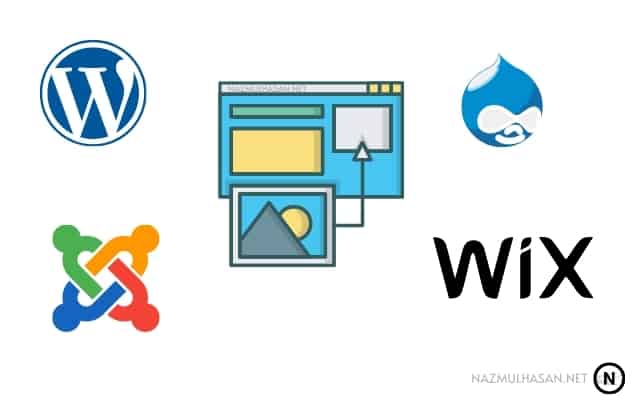 CMS— Content Management system.
You may think why I talk about CMS as it is not a jargon of SEO, but most of the websites are based on some CMS. For example: WordPress or Joomla are the most popular CMS.
Impressions — How often your ads show up.
If we talk about ads then impressions indicate how often people see the ads. For websites how often visitors see the page and for SERP how often it shows your ads.
CPA — Cost per Acquisition
How much it will cost to get each convert. Say, you spend 10 USD for ads, and a total of 5 people go to your site .That means your CPA is 2 USD. For SEO expert / your website paid advertisement cost.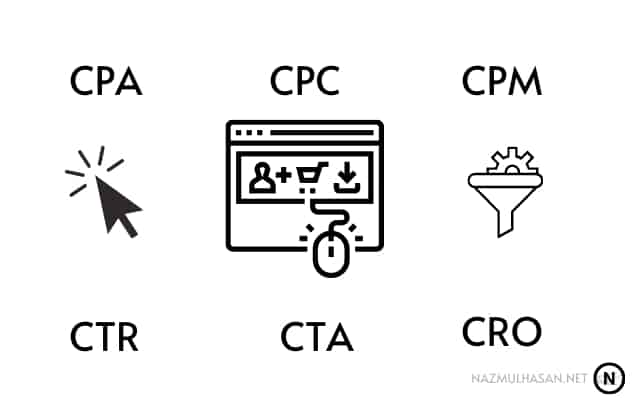 CPC:Cost per Click
If you run ads for your product/ service or your website, how much you are going to pay for each click
CPM – Cost per Thousand
This "CPM" is not used so often, but again it is a term. CPM indicates per mile/thousands. How much you are going to pay for 1k impression on your ads!
CTR – Click-Through Rate
Simply if you browse Facebook or your favorite website, you may see lots of ads. But how often do you click on the ads? Yes, this is actually called CTR, how many clicks on your ads compare to the impression or shown up!
CTA: Call to action
CTA indicates the button or clickable image/banner. For example if you read an article and after 2-3 paragraphs you may see the button " Click to download free" "Free E-book". This is called CTA, though this CTA completely depends on how copyright is done. Without proper placement of CTA, no one will click the links!
CRO – Conversion Rate Optimization
When marketers run ads they run some test/ AB test for a few days. Based on the result of testing data and analytics they improve the ads copy or sometimes shutdown the ads. This improvements included many things like: ads copy, CTA copy, or image/videos edit.
PPC – Pay-Per-Click.
Paying for each click. If you want to run ads on any media like google or Facebook you need to set up PPC or the platforms automatically charge as per the PPC.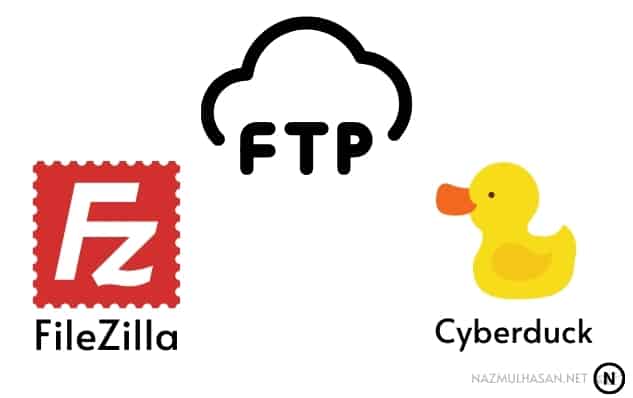 FTP: File Transfer Protocol
By using the internet you can transfer files. This FTP more often in website management. For example: upload large videos or media content using FTP server. FTP server contains User name and password. You need the specific software or application in order to use the FTP server from your pc.
Some popular FTP application for PC are.
Serv-U FTP Server
Cyberduck
FileZilla
WinSCP
Serv-U Managed File Transfer Server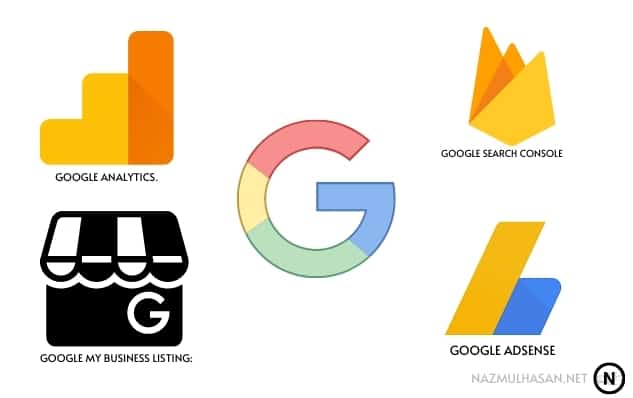 GA – Google Analytics.
Google stores data of your website and helps to analyze later by showing your visitors information, activities, sites current positions. How many keywords are ranking, visitors, location and so on.
Google My Business listing: Listing your Business
For local business you need to add your business name in directory its called business listing, the service of google my business listing is one of them.
GSC: Google search console
Google free service , help to monitor the site information.
KPI – Key Performance Indicator
You analyze the data, doing Ab tests and run ads successfully. Now what ? In order to evaluate your success you need to see the KPI. KPI uses profit/leads with real benchmarks to compare your result by week/month/year.!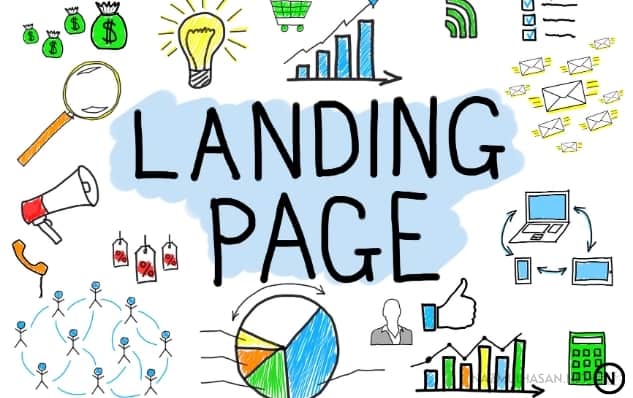 Landing Page: Where visitors lend by clicking CTR.
Landing page is nothing fancy, it's a normal web page. Landing pages often included the information of products/ services. When marketers run ads they offer free products/PDF/solutions for the visitors. When they click on the links/ button the button redirects to a new page with information, it is called landing page.
Offer: what you offer for your customer
The product or service you want to sell or the solution of any problems indicate the offer.
Organic: Natural / natural results.
When Google ranks your site you get free visitors, means for the potential customer you did not spend any money on ads. It's called organic result. In the SEO industry organic use as an organic result.
Crawling: Search Engine Process
Search engines discover the web page or new post by their bot, this term is called crawling.
Also known as "crawlers" or "spiders," or "Bot"
Indexing: Content organized in search engines.
When search engines show your web page result, it can be called an index web page.
De-indexed: Remove the page or site from Search engine.
If a website or web page is removed from a search engine or Google index it is called de-index.
Featured snippets: Organic Result show direct answer.
Google search engine show some organic result above the page with box., contain brief answers to the questions. It is called Featured snippets.
Image carousels: Show image search result.
Same as featured snippets, it shows a list of images based on the queries.
User Intent: Context of SEO
What users are looking for and what you give them. For example: If you search for the best WordPress theme for affiliate marketing.
The first result shows that : top 5 best themes for affiliate marketing. Then it completes the intent. On the other hand if your result shows – how to develop affiliate themes then this is not the answer user looking for.
People Also Ask boxes: List of questions show on the first page.
Based on the search query and result of other visitors or user SERP pages show a bunch of questions related to your quarry.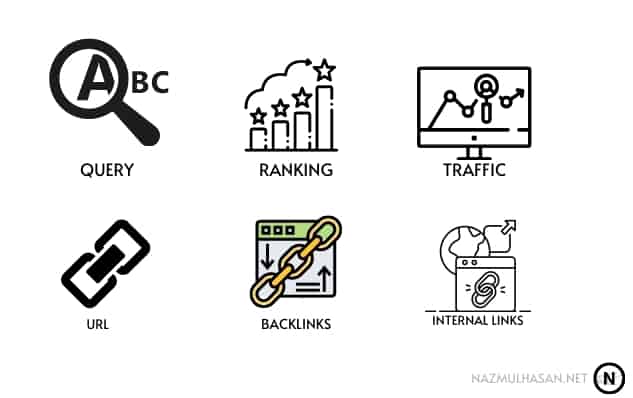 Query: Words or Keywords or Question.
The question or keywords you search in search engines. For example: if you search "how to lose weight" then "How to lose weight" is called a query
Ranking: Rank website or web page on search engine.
Based on quality content and other factors, search engines rank the web page serially. It is called ranking.
Traffic: visitors or user
The visitors or users of your website is traffic.
URL: Uniform Resource Locators
The links of the post or page. For example this post has a link it is called URL.
Backlinks: Other website links
Inbound links or other websites mention your site/page is called backlinks.
Internal links: Links between your post or page.
Links point the other link inside your website. For example: category A links to category B or in one post you mention reference or details info of other page.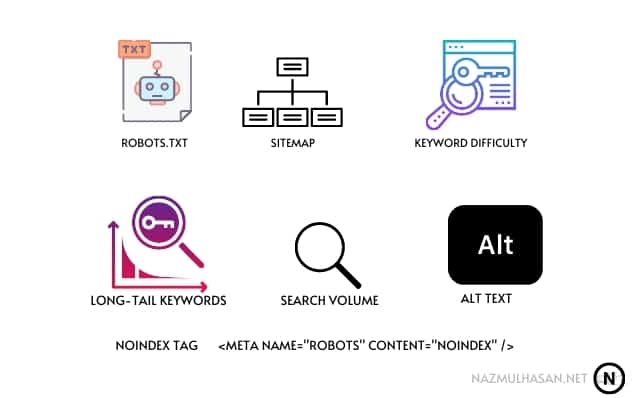 NoIndex tag: No Index meta tag.
Meta tag that instruction to the search engine or the bot, do not index the page or site.
Robots.TXT: Crawl instructions file for your site.
Files that indicate which page or post should index and not index.
For Seo practice we often index all pages and post and no-index the category page.This instruction record in robots.txt file.
Sitemap: All URL of your site.
List of urls ( page/post/authors) help the bot or crawlers to discover more easily. Having a sitemap is very important. As it helps to index page or post in less time.
KD: Keyword Difficulty
KD is an estimate of difficulty for keywords. This term is used by different keyword tools companies. For example: Ahrefs, Moz, Semrus use different KD for their tools.
Keyword Explorer: SEO or Keyword Tools
Keyword tools like ahrefs or moz provide keyword explorer for In-depth keyword research.
Long-tail keywords: keywords contain more words.
For example: "apple phone" is a short keyword containing 2 words only. On the other hand if we write " best apple phone in 2021" contains 5 words. This is a long tail keyword. Long tail keywords are easy to rank in search engines.
SV: search volume
The number of times a keyword is searched in a search engine. It shows monthly search volume.
Seed keywords: Main or primary keywords.
Bike is primary or seed keywords. Under bike we can list more keywords like : road bike, mountain bike, hybrid bike and many more. Again for road bikes we can add more keywords under this like: best road bike under 400, best road bike for men. Then the road bike keyword became seed keywords.
Alt text: Alternative text
Alt text use in html that help to boost seo of your static image or media files.
Anchor text: text contain the links
If you link to another page as internal linking or another website as backlink both need to use anchor text. For example if i write an article about on page optimization. Someone already published on page seo checklist. Then I can use on page as anchor text to link the site.
Header tags: HTML tags
Start with H1 and H2, h3,h4. H1 indicates heading 1.
Meta descriptions: HTML text for a topic
For every page or post seo experts often use meta description. A meta description is nothing but a short Summary of the content. So that visitors can see the basic info contai with the content even without clicking the links. On the other hand this Meta description also helps to increase click rate and ultimately boost your seo.
Note: This post will continuously update day to day. Make sure save or bookmark the links.
Make Sure you know enough- SEO Glossary of Terms & Explanation!